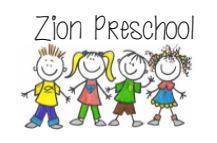 Thank you so much for visiting our page today! Here at Zion Preschool we have so much to offer your child and family. We have a staff of wonderful people here to teach your young child. Zion Preschool provides a fun, faith-based, relaxed approach to learning. Children are free to explore, create, and PLAY. Play is the work of all children. Our classrooms are set up to introduce preschoolers to the concept of sharing and caring through respectful play.
Zion Preschool offers classes for 3 year olds through 5 year olds. All of our classes meet from 9:00-11:30. Our three & four year old class offers a 2 day or 4 day option and our four & five year old class offers a 3 day or 4 day option. More detailed information can be found in the registration packet below. Our school year will run from the September 5th through mid-May.
For more information, you can contact the Director, Vikki Harms, at zionpreschoolmascoutah@gmail.com.
We hope you'll consider sending your child to Zion Preschool!
God Bless,
Vikki Harms, Zion Preschool Director