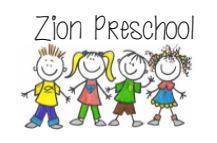 We are excited about Our 2022-2023 preschool year! We are back
to offering all in person classes this year! Our school year begins
with online parent orientation on Wednesday, September 1st at
10:30 a.m. This orientation will be live on the Zion Preschool Facebook page www.facebook.com/ZionMascoutahPreschool. This is a great opportunity to meet the staff, receive information for the new school year, and ask questions.
We are also hosting small group Meet & Greets on Thursday, September
2nd. This will give students and parents the opportunity to see the
classrooms and meet the teachers and staff in person.
Our first day of class will be Tuesday, September 7th. Classes run from 9:00 AM to
11:30 AM. We still have a few openings in our three-year-old class, so tell your friends and
neighbors.
Miss Amy (Benjamin) and Miss Christy (Reese) will be returning to the four-year-old
classroom. We are excited to have Miss Emily (Stein) joining our staff this year as our new 3-
year-old Lead Teacher. Miss Becky (Barnes) will be returning as her aide.
We look forward to another year of fun serving families of Mascoutah and the surrounding area. We thank God for the continuing support of our preschool parents, Zion's
Board of Christian Education, and Zion's congregation.
Zion Preschool is also starting a brand-new Parent's Morning Out Program this year!
This program is open to all children ages 2-5 twice a month on
Friday. For more information or to register your child, contact
Vikki Harms at
God Bless,
Vikki Harms, Zion Preschool Director