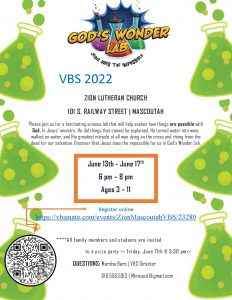 GOD'S WONDER LAB
When: June 13–17 from 6–8 pm.
Who: Children ages 3–11 years old.
Please join us for a fascinating science lab that will help explain
how things are possible with God. In Jesus' ministry, He did
things that cannot be explained. He turned water into wine,
walked on water, and His greatest miracle of all was dying on the
cross and rising from the dead for our salvation. Discover that
Jesus does the impossible for us in God's Wonder Lab.
Please invite your friends! Register online at:
https://vbsmate.com/events/ZionMascoutahVBS/23280
Questions or want to volunteer?
Contact Marsha Baro at or 618.558.5913.
There is a sign-up sheet in the Narthex.